Play Dough (aka: Play Doh)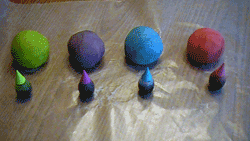 Making your own Play Dough is very easy. There are only a couple of steps to making it. But, when you are done you will see that it comes out very close to being like Play Doh!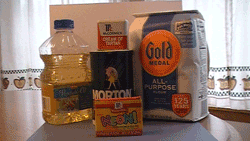 Supplies Needed:
Wax Paper
Plasic Baggies
Water
Flour
Salt
Vegetable Oil
Cream of Tarter
Food Coloring
There are two recipes for the Play Dough.
Basic Ingredients:
2 Cups Flour
2 Cups Warm Water
1 Cup Salt
2 Tblespoons Vegetable Oil
1 Table spoon Cream of Tartar
The above recipe will make a lot of Play Dough. I used the second recipe below with the proportions cut down to meet my needs. I really didn't need as much as the first recipe would give, so it's all depends on how much play dough you need and how many kids (or adults) will be playing with it. But, here is the recipe I used.
For Smaller Batches:
1 Cup Flour
1 Cup warm water
1/2 Cup Salt
1 Tablespoon Vegetable Oil
1 tablespoon Cream of Tartar
Play Dough Instructions:
Step One:
Mix the dry ingredients (flour, salt and cream of tarar) in a pot. Then add the liquid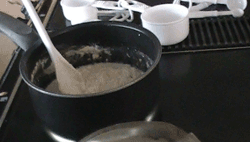 ingredients (water and vegetable oil) to the mixture. Begin stirsing the mixture together.
I had my heat set on a medium heat because I didn't want to burn the Play Dough.
Step Two:
With a wooden or plastic mixing spoon stir the play dough mixture until it begins to thicken and turn into a more solid state... this doesn't take very long at all. I did it in under 5 minutes so don't walk away from your pot!
Once it starts to peel away from the edges of your pot stir it around the pot for another minute.
Step Three: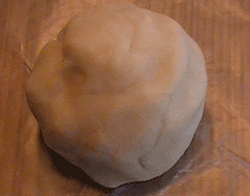 Place the still very warm Play Dough mixture on wax paper and wait a little bit until it is cooler to the touch. Once it's cool enough for you to handle, form the play dough into one ball.
Step four:
Seperate the one large ball into four smaller balls and set aside. You can make more than four balls if you want, they will just be smaller.
Step Five:
You want to take each Play Dough ball one at a time and pr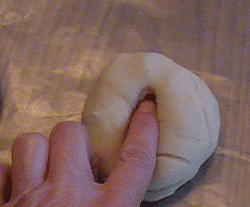 ess your finger into the center creating a ditch. Creating the ditch allows you to keep the food coloring in place so it doesn't run off the top of the ball.
Step Six:
Add a couple of drops of food coloring to the little ditch. Here you can use as much or as little food colo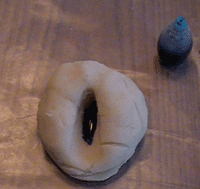 ring as you like. If you see that the color just isn't what you wanted, add more.
Pick up the Play Dough and mix it with your hands. You will need to mix it very well, kneeding and rolling it around on the wax paper.
Step Seven:
Repeat for the remaing play dough. And... Yahoo! You have now mad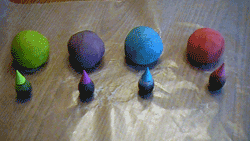 e some pretty impressive play dough! Mine turned out great and I know yours will too! It does look and feel like Play Doh!
Tips:
Store your new Play Dough in an air tight container or plastic baggies so that it doesn't dry out.
Don't worry if you have food coloring on your hands when you are done... it washes off after a couple of washings.
I will put the link in for alternative instructions soon!
Back to Home