Candy Cane Heart
Candy Cane Heart for Quick Valentine's Decorations!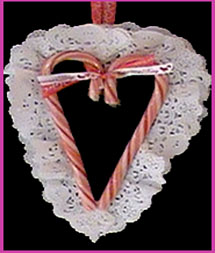 Here is an easy candy cane heart to give to your Valentine or use as a Valentine's Day Decoration. I love Valentine's Day! Or- Rather, I love Valentine ideas and candy!
So, if you have left over candy from Christmas this is a perfect project for you. If you didn't save any candy canes from Christmas you can still look around for the Christmas clearances... and remember to buy and save some next year.
There are many variations, so while you are making this one, think of the many diferent ways you could make. For example; the doily edges could be changed to lace ribbon or a colorful ribbon, there are just so many things that can be done. Give it a try! And, when you are done making this candy cane heart try making some of the other Valentine ideas!
Candy Cane Heart Supplies Needed
2 Candy Canes
3 paper doilies
Adhesive
Glue dots
Ribbon
Step One:
Take the 3 doilies and fold them in half. Cut the centers out of the doilies.
Step Two:
Take the candy canes and put adhesive on the outside edge and to the rear of them. For demonstration purposes I used snail adhesive but, if you are using anything other than the paper doilies I would suggest using a stronger double sided tape.
Step Three:
Take the first cut doily and line it up to the edge of the candy cane and keep sticking it on until you run out of doily.
Step Four:
Repeat step three with the other candy cane.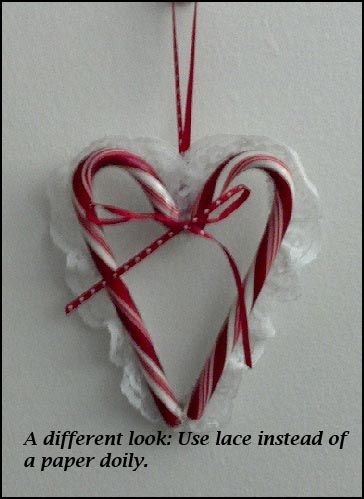 Step Five:
Take a couple of glue dots and put them on the ends and the top of the candy canes to hold them in a heart shape.
Step Six:
Use the remaining cut doily to fill in the top of the candy canes.
Step Seven:
Cut ribbon about twelve inches long. Tie a loop in the center, but don't pull it tight yet!
Step Eight:
Cut two smaller pieces of ribbon (if you want your project to match mine, you can do more or just one) Lay these smaller pieces of ribbon into the loop and make sure they are centered and lined up the way you want them. Then, pull the longer ribbon tight and that will create a look of a bow in the front.
Step Nine:
Tie the longer ribbon around the curved part at the top and make sure the knotting is in the back. Tied the ribbon at the ends and hang on the wall or give your candy cane heart to someone for Valentines Day Gifts!
You just turned your left over Christmas candy into a candy hearts for Valentines Day!
Back to Valentine Crafts
Tags: candy cane heart, candy hearts, valentines, Valentine's Day Gifts, valentine ideas