Candy Gift Box
Easy Candy Gift Box for Valentine's Day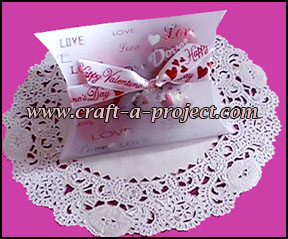 Candy Gift Box for your Valentine. Make one! This is one of the easiest and fastest Valentine ideas I have made yet. This is a Valentine's Day craft, but can be use for so many different things.
For example; This little Valentine can be altered for birthdays, weddings and even anniversaries! And, I could see how easily this could be used for Valentine's Day!
For more than a candy gift box see what else we have!
How to make a Candy Gift Box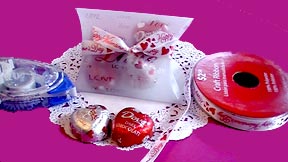 Supplies Needed:
Candy (I used Dove heart shaped chocolate candy)
Ribbon
Adhesive
Favor Envelope
I bought my favor envelopes or pillow box at Wal-mart in the wedding aisle. You get 25 of these for about $6.00.
Step One:
Take one of the pillow boxes and fill your heart favor with sweets of your choice. I used Dove chocolate hearts, but because the little envelope is so pretty you can use any kind of candy you want.
Step Two:
Wrap ribbon around the filled envelope and then add another inch to the length.
Step Three:
Tie a loop in the center of the ribbon, not a knot. Cut another piece of ribbon of any color or the same color and angle the ends. Slide the shorter piece of ribbon through the loop of the longer ribbon and center it. Using the longer ribbon pull both ends untill the ribbon is tight around the smaller ribbon, thus creating a faux bow.
Step Four:
Add adhesive to one of the ends of the longer ribbon. Wrap the ribbon around the envelope and secure with the adhesive end of the ribbon. Make sure before you press the ribbon down and together you have the little bow in the front centered on the fron of the envelope.
Step Five:
Give it to your valentine!
If you have made something special and unique visit our submissions page, we'd love to see it and share it on the site.
Back to Home Page
Tags: candy gift box, valentine crafts, valentine ideas, heart favors