Paper Clip Angel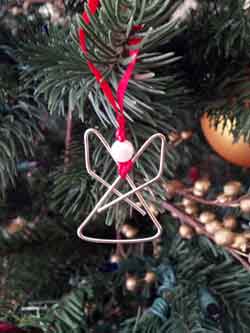 This Paper Clip Angel is great as a Christmas tree ornament or you could even use it as a little ornament on one of your Christmas gifts. They are very inexpensive to make and you could make many of these if you wanted to without breaking the bank.
How To Make the Paper Clip Angel Ornament
Supplies Needed:
Paper Clip
Bead
Ribbon
Sewing Needle
Scissors
Step One: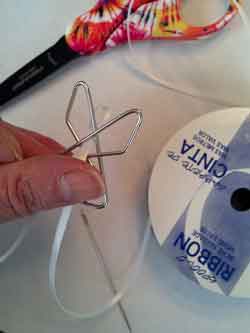 Take your paper clip angel and ribbon that is about 8-10 inches long.
Fold the ribbon in half and push it through the center of the clip. Loop the ends up and through the loop you just created wit the ribbon. That should give you a knot that you paper clip angel's head will sit on.
This paper clip is actually called a "butterfly clip" and it can be found at any office supply store or even at places like Walmart in their office supply department.
But, the beauty of this paper clip Christmas Ornament is that it looks like an angel body, which makes it easy to turn it into a Christmas tree ornament.
***********************************************************************************************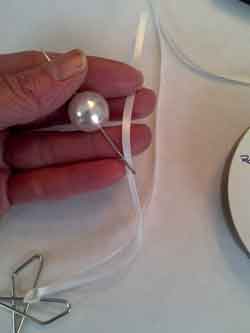 Step Two:
Thread your ribbon through the sewing needle eye.
You will have two ends to thread through so make sure your needle is big enough to get through.
If you have a bead that has bigger hole then you may not need to use a sewing needle for this part. My bead had a very small hole.
Pull your ribbon through the bead.
Step Three:
You can tie another knot above the Paper Clip Angel (The angel head) if you want too. But, you will need to tie off the ends at the top of the ribbon if you plan to make this a Christmas Tree Ornament. If you plan to use this on a Christmas Gift, then you may not tie the ends.
Yahoo! You have just made a Paper Clip Angel... That was pretty easy right? Now, there are a few other things you can do with this Christmas Tree Ornament to make it look different.
1. Use different colored ribbon. Red, Green and white work well.
2. Use a viarity of beads for the head.
3. You could try spray painting the Paper Clip or sprinkling glitter on it to make it shimmer.
Show us what you made from this Paper Clip Angel Tutorial!