Leprechaun Hat
Make this Super Cute Leprechaun Hat for your Desk!
A Leprechaun Hat for you to make and display on your desk. Whether you are a teacher or secretary you can put this out for all to love!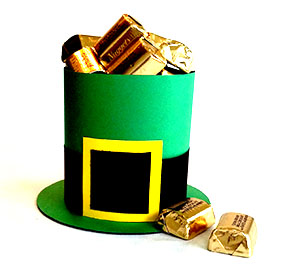 ---
Supplies Needed to Make this Leprechaun Hat
---
Supplies used and where to get them. Click on them to see where you can purchase them.
(2) Green cardstock
(1) Black Cardstock
(1) Yellow Cardstock
Ruler I used the one I had, this one will be useful in other projects.
Adhesive: Scor-Tape, Xyron Machine
Pencil Any Pencil will work
CD Use and old CD
---
Leprechaun Hat Step-by-Step Instructions
---
Step One: Cutting Cardstock
- Cut (1) green card stock to 11 x 4.5.
- Cut (2) 3 inch circles from second green cardstock
- Cut Black cardstock to 11 x 1.5 This is the black band that goes around the leprechaun hat.
- Cut another black cardstock to 1.5 x 1.5. this will be the square that fits inside the yellow square.
- Cut Yellow cardstock to 2 x 2
Step Two: Scoring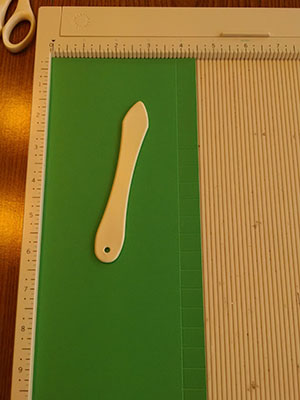 Take the green piece of cardstock that you cut to 11 x 4.5 and score on the long side at .5 inch mark. This is where you will fold the bottom over.
Then, cut at every half inch mark along that score line. I scored it first so I knew where to cut.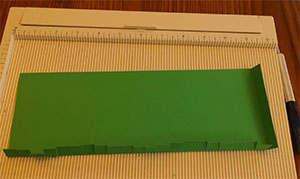 Cut off one of the the flaps on the end of the cardstock. This will allow for the paper to come into a circle easier.
***You might want to attach the black band at this point, but I did it later in the instructions***
In my image I show to score at the end of the paper, I tried that and it wouldn't allow the paper to sit in a circle so I didn't end up doing it that way.
Step Three:
Add adhesive to one of the ends of the paper. I used scor tape for this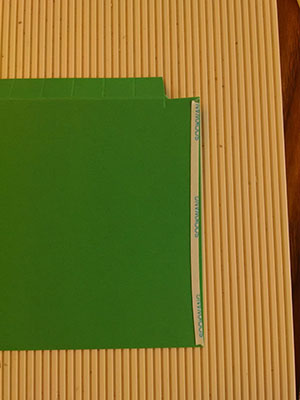 Step Four:
Funny how it works sometimes! I used a soup can to guide my paper into a circle. I also use the same soup can to draw my 3 inch circles, since the can happened to be 3 inches!
Just fold over all the little flaps along the score line.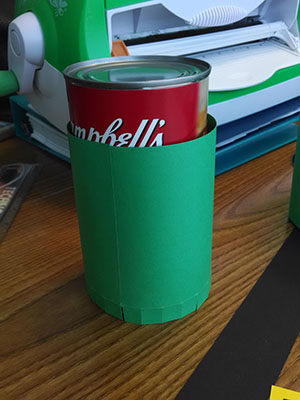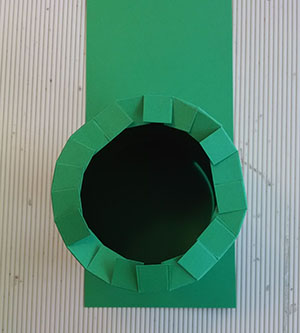 Step Five:
You can use a soup can or another measureing device like a protractor to draw two 3 inch circles. these circles do not have to be perfect since they are used to line the inside and outside of the bottom of the Leprechaun Hat and will not be visible. You could even try to use the hat part that you just put together, but it's not that stable.
Cut out the circles and adhere one to the inside of the hat and on on the outside of the Leprechaun Hat on the bottom. I used the Xyron to make sure I had complete coverage of adhesive, or edge to edge adhesive.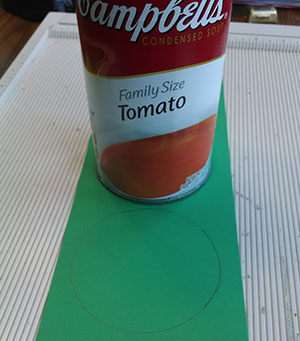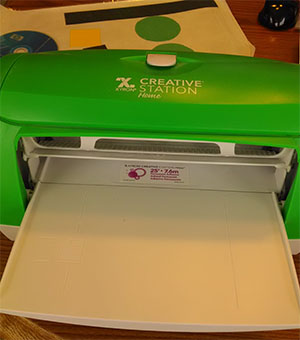 As you can see in the background of this photo, I used the Xyron Machine for everything except for the ScorTape I used on the one end of the gree cardstock. I'm telling you, if you don't own a Xyron Machine, you may want to consider getting one. I have it in 3 different sizes. The smallest, is for my ribbon and smaller items and embellishments. This one in the photo is the larger one which you can put bigger sheets of paper through. Infact, I even sent the CD through to put adhesive on it! It's Great.
Step Six:
Run your CD through the Xyron Machine or cover it completly with adhesive. I covered both sides, but you really only need to cover one side. Then, lay the CD flat on the second piece of green cardstock. Let it sit for a minute, you don't need to wait if you used the Xyron Machine. Use your scissors and cut aaround the CD so you have the CD covered with greed cardstock. This will be the rim for the Leprechaun Hat.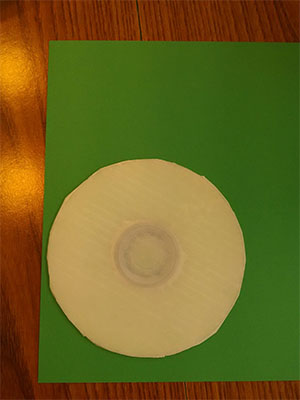 What you see in the image is the adhesive from the Xyron machine on upside. I will peel that off and put the CD down again on green cardstock and cut around it again. But, after I did that I realized, you really don't need to do it twice.
Step Seven:
Attach the black band to the hat. I measured about an inch up from the bottom edge. You may want to attach your yellow 2x2 square so you can see that it doesn't bend when attached. Just center it. You could cut out the center of the yellow square, but I thought it might be easier to add the extra 1.5 x 1.5 black square so that it looks like you cut it out.
Step Eight:
Attach the rim (covered CD) to the bottom of the hat and fill your hat with goodies and set it out and see if you get any Leprechauns!
You can use Hershey's Nuggets and make some cool nugget wrappers or you can fill it with Rolo.
Once you are done making your Leprechaun Hat, check out some of the other St.Patrick's Day Crafts!