Korker Ribbon : DIY Instructions
The Easy Way to Make Korker Ribbon!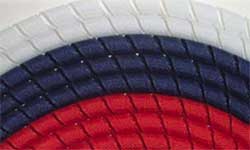 Korker Ribbon is a ribbon you can't go out and buy just the way you want it... You have to make it yourself. And you will need it if you are going to make beautiful boutique hair bows!
---
Watch the Korker Ribbon Video first:
You've seen beautiful ribbon to make bows everywhere, haven't you? They are very pretty and colorful hair bows everyone seems to be wearing or putting in their little girls hair. They are even used in fancy hair bows!
For more on boutique hair bows or korker ribbon click here.
They aren't very hard to make if you know some basic things.
Be sure to read this page and watch the youtube video for sealing and searing your ribbon, it's very important you know how to do this before moving on.
You will find the links to instructions for all the hair bows we have listed, but you will need to visit often because we are constantly updating the site and adding more craft projects for you to make.
If you'd like to learn how to keep your ribbon from fraying click here.
Supplies You will Need
---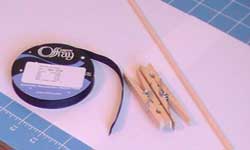 Dowel Rod- 12 inches long- Michaels
Cookie Sheet- An old one-
Two Wooden Clothes Pins
Ribbon


Korker Ribbon Step-by-Step Instructions
1. Take your ribbon and your wooden dowel and clip the ribbon on to the wooden dowel with the clothes pin.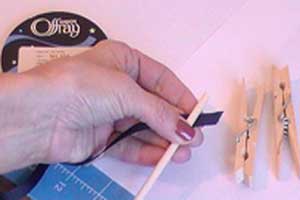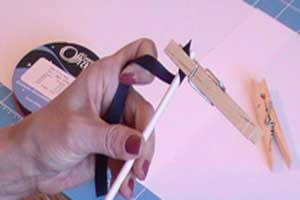 2. Wrap the ribbon around the wooden dowel, by just twisting the dowel. Wrap all the way to the bottom and use another clothes pin to clip the end.
Some people like to leave a gap between twists, but I find that I like the ribbon tighter and I leave no gaps. You can play with this and see which you like better. When you get to end of the dowel and have placed a clothes pin to hold the ribbon on: Cut off the excess.
Tip: Be sure to use wooden clothes pins because they will eithe burn or melt if they aren't the wooden ones.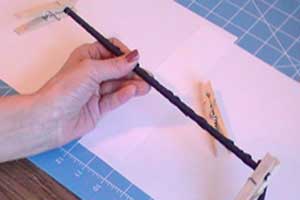 3. Place finished dowels on a cookie sheet. If you are using an old cookie sheet as I have, then line the cookie sheet with foil to keep your ribbon clean.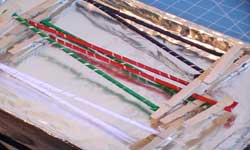 Pre-heat your oven to 275 and put cookie sheet in the oven and bake for 25 minutes. You will probably want to do more than one dowel, pick your colors and make many.


4. Remove cookie sheet from oven and let cool. Once the sheet and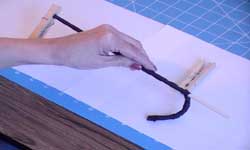 the ribbon has cooled off, begin taking the ribbon off of the dowel. The ribbon is now a Korker Ribbon!

And, that's all there is to making your own Korker Ribbon!
Now all you have to do is Just cut the ribbon to the size you need for your craft project.


Back to home page
Back to Hair Bows