Halloween Candle Wrappers
Halloween Candle Wrappers FREE!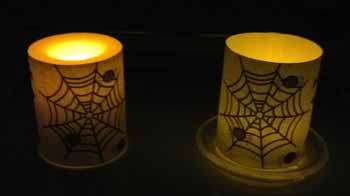 Halloween Candle Wrappers are perfect Halloween decorations! Here's why: When you make party decorations it costs you less and if you use these candle wrappers they will cost you even less and you can reuse them year after year!
In the instructions below I will show you how you can use these Halloween Candle Wrappers two different ways and one of them you don't even need a candle.
But- Here is a word of caution: DO NOT USE WITH A REAL FLAME!
I am sure you can come up with other ways to use them and if you do please share!
Submit your Halloween Candle Wrappers and ideas proudly!
Halloween Candle Wrappers Supplies
Copy Paper (The thin stuff 16-20 LBS)
Scissors
Adhesive
4 inch candle (optional)
Halloween Candle Wrappers Instructions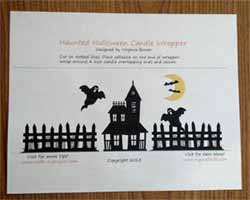 1. Design your own Halloween Candle Wrapper or use one of mine.
The two Halloween Candle Wrappers you see on this page are free for personal use.
If you would like to use them in other ways shoot me an email.
You can get the Halloween Candle Wrappers free when you sign-up for our newsletter.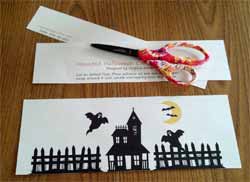 2. Cut along the dotted lines, all the way across the paper. Discard what you cut off.

3. Place adhesive on just one end on the Halloween Candle Wrapper. You can use double sided tape, liquid glue or a tape runner like I did. Anything will wor with this Craft Project.
We will overlap the paper so the wrapper doesn't stick to the candle (if you are using a candle).
And the reason we don't want the paper sticking to the candle is because we will want to use the candle again for other things later.
.
4. Carefully line up the edges to match around the candle before adhereing. For these Halloween Candle Wrappers I don't think it matters much of you don't cut on the lines or line it up exactly... it will be dark!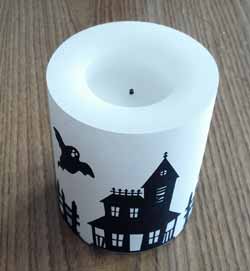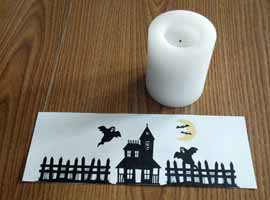 5. Turn off the lights! YAHOO! Aren't these Halloween Candle Wrappers Great?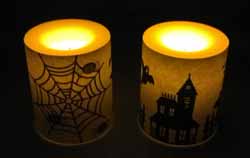 Ok, I promised you another way to use these wrappers without using a candle.
Follow all the instructions above, but when you get to the part where I tell you to put the Halloween Candle Wrappers around the candle carefully lining up the edges, just line up the paper without the candle and you add a flameless little tea light!
I did get my little tea lights at the dollar store.
It works just as well! If you are going to use these outside you may need something to hold down your wrapper and tea light if it gets windy.
For more Halloween candle wrappers and crafts, check back here!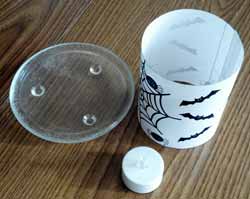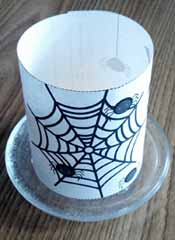 Here is what it looks like when it's dark: