Flag Pin Craft
Wear this easy to make festive flag pin craft on your clothes for the 4th of July!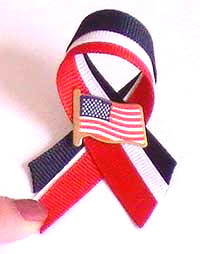 Here is a great patriotic flag pin craft to wear proudly! This is a pretty simple project to make. Give them out to your friends, family and co-workers! They will love them.
Check out the other 4th of July ideas.

Watch flag pin craft youtube video instruction here
Flag Pin Craft Supplies Needed: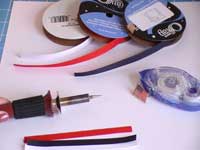 Ribbon red, white and Blue
Wood Working Tool
Adhesive
Patriotic pin
(I got these at Oriential Trading)


Step One:
Cut three pieces of ribbon, one in each color to 6 inches in length.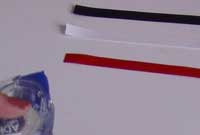 I used a little adhesive to hold the three together. If you need to watch the youtube video click here.

Step Two:
Twist your ribbon together around to form this shape. I like to have the red up front.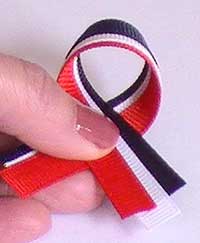 Step Three: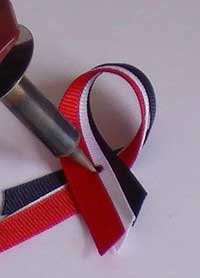 Take your wood working tool and put a hole in the center of your ribbon. Caution: The wood working tool is very hot and will burn your skin and anything it touches. Make sure you are using a metal pan or cookie sheet while making the center hole.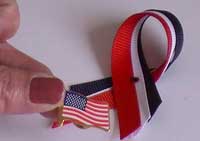 Step Four:
Take your pin and remove the back. Push the post through the ribbon and put the backing of the pin back on.


Step Five: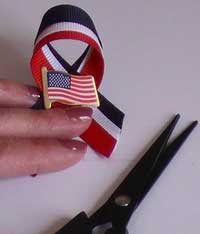 Using your scissors, cut straight up fron the corner of the red strip of ribbon to give the tails an angle.


And, you are DONE! YAHOO! This is a great craft project. Now, put your little treats in a cute bowl on your desk or on the picnic table!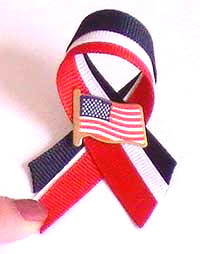 Watch flag pin craft youtube video